NATIVE PRO 100™
100% NATIVE WHEY PROTEIN ISOLATE
AT A GLANCE
30 g fast-acting protein.
Made with 100% NATIVE whey isolate.
Extracted directly from pasture-raised, grass-fed cow's milk.
17% more leucine, 8% more glutamine, 25% more arginine.
0 g lactose, gluten, or fat.
No rBST hormones, antibiotics, creamers, synthetic colors.
Naturally flavored. Sweetened with stevia and monk fruit.
No banned substances - safe for sport.
USAGE
After workouts, mornings, or afternoons.
Per serving. Amino acids are naturally occurring and values are approximated. Information varies by flavor. Refer to nutritional, ingredient, and allergen information for complete details. Native whey is not a byproduct of cheese manufacturing or subjected to secondary pasteurization. Compared to standard whey protein isolate. No significant difference has been shown between the milk of rBST treated and untreated cows.
Insights
Traditionally whey has been a byproduct of cheese manufacturing. Though cheese whey is still the industry standard, a new technology, allowing gentler extraction of delicate whey proteins directly from milk, is emerging. This next generation of whey protein is more expensive than traditional sources, but has qualities that make it highly attractive for athletes. Some examples include lower denaturation (natural or 'native' structures of the proteins better preserved), higher levels of key aminos to support muscle performance, and clinically backed effectiveness.*
NATIVE PRO 100 represents the latest innovation in whey protein. Lower-temp technology directly extracts pure whey protein from the milk of pasture-raised, grass-fed cows to preserve more of the naturally occurring benefits that have been scientifically shown to support muscle performance. Those seeking the best whey protein available need look no further.*
*These statements have not been evaluated by the Food and Drug Administration. This product is not intended to prevent, treat, cure or prevent any disease.
DIRECTIONS
Add 1 scoop of NATIVE PRO 100™ to a glass or shaker cup filled with 8 ounces of cold water. Stir or shake for a few seconds until powder is fully dissolved. Enjoy. Tip: Try blending NATIVE PRO 100 with milk, fresh fruit, and ice cubes for a creamer texture and added antioxidant power.
BEST TIME TO USE
After workouts, mornings, or afternoons.
ALLERGEN INFO
CONTAINS: MILK AND SOY INGREDIENTS.
STACKS WELL WITH
PROMASIL™ CASEIN, RIVALMEN™, STEAM BCAA™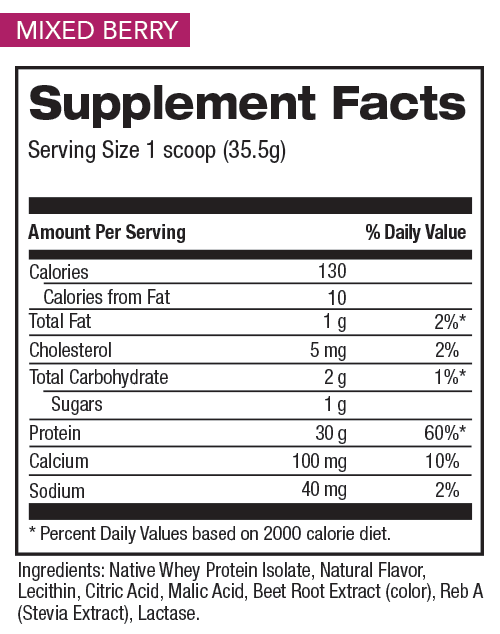 21 Reviews
Native Pro 100 - Chocolate

Posted by Susan on Jun 6th 2018

I am 16 yrs. post op gastric bypass. This is the best tasting protein I have found. It mixes up well without clumps, it is not heavy like some other protein drinks, and it does not leave a funky aftertaste in my mouth.

Native Pro 100

Posted by DM on Jun 6th 2018

This is quite possibly the best protein out there. Chocolate tastes great and mixes well. It would be the only protein I use if it wasn't so expensive. I use this for my post workout protein.

Native Pro - True Vanilla

Posted by Kaitlyn on Jun 6th 2018

This is my new favorite protein power. It mixes well and tastes amazing. Not chalky, doesn't taste artificial and the ingredients are the best. Other protein brands have caused me to break out, but not RivalUS!

Native pro 100

Posted by Teena on Jun 6th 2018

Mixes good

Outstanding

Posted by Danae Thompson on Apr 10th 2018

Love how pure and natural the powder is.

Native Pro 100

Posted by EarlthePearl on Mar 26th 2018

I have tried several whey protein powder products in the past with mixed results. Most were just average when it came to taste, protein content and smooth no lump mixture. So I began searching for a high quality, high protein content and equally important great tasting chocolate product with minimum excess filer ingredients. While the number of reviews were limited they were positive. In addition, I was impressed after reading the company's history, manafacturng processing facility and commitment to producing a high quality great tasting product with equal performance results. So, I purchased Native Pro 100 Chocolate, my favorite flavor, as a comparison to chocolate protein products I used in the past. After, several uses I can safely say, it is the best overall protein product I have ever purchased and will continue to purchase. I am 81 years old and with the help of Rivalus, I will continue to train 3 days per week and maintain good healthy habits. ⭐️⭐️⭐️⭐️⭐️

Native Pro 100 - Chocolate

Posted by Susan on Mar 1st 2018

Great tasting - Mixes clean - No funky after taste!

I had bariatric surgery in 2001 and so I try to maintain a high protein diet. It has been difficult over the years to find a supplement withou an aftertaste, that wasn't heavy on my stomach/pouch, and that mixed well.....until July 2017 when I tried the Native Pro 100.

My first experience was just tasting the powder by itself & it tasted like hot cocoa powder to me & I instantly fell in love because there was no funky after taste like I experienced with other products.

Native 100

Posted by Sam Westhoven on Feb 19th 2018

Great taste, mixes well and is very filling.

Native 100

Posted by Sam WesthovenWonderful taste, mixes well and is very filling. on Feb 19th 2018

Great taste, mixes well and is very filling.