CLEAN GAINER™
HIGH PROTEIN LEAN GAINER
AT A GLANCE*
560 calories.
30 g dairy protein blend.
90 g eight-source complex carb blend.
Just 8 g of sugar.
Essential fats from flax, avocado, and sunflower.
Instantized to mix up quickly, fully, and easily.
No banned substances - safe for sport.
USAGE
After workouts or before bed.
*Per serving. Amino acids are naturally occurring and values are approximated. Information varies by flavor. Refer to nutritional, ingredient, and allergen information for complete details.
Insights
To pack on serious size, you need to consume more energy than you burn. A number of variables need to be factored in, but 3,500 calories per pound of added body weight is a commonly referenced estimate. True hard gainers may need even more. In a world of fast food, finding extra calories isn't hard. Getting quality, protein-rich calories to back-up your gym time? Now that's a different story.
With a killer combo of full-spectrum proteins, eight energizing carb sources, and essential fats, CLEAN GAINER™ is high-octane nutrition (over 560 calories worth) that fuels the intense needs of world-class athletes as well as those who aspire to be. Factor in the no banned substances and it's a MASSIVE winner.
DIRECTIONS
Add 2 scoops of CLEAN GAINER™ to a large glass or shaker cup filled with 12-16 ounces of cold water. Stir or shake for a few seconds until powder is fully dissolved. Enjoy. Tip: Replace the water with low-fat milk to boost the calories and protein content. For greater mass potential, try blending in high-energy ingredients like peanut butter, flaxseed. MCT, or olive oil, and/or coconut pieces.
BEST TIME TO USE
After workouts or before bed.
ALLERGEN INFO
CONTAINS: MILK AND SOY INGREDIENTS.
STACKS WELL WITH
RIVALMEN™, CRE-ELITE 5™, ENCHARGE™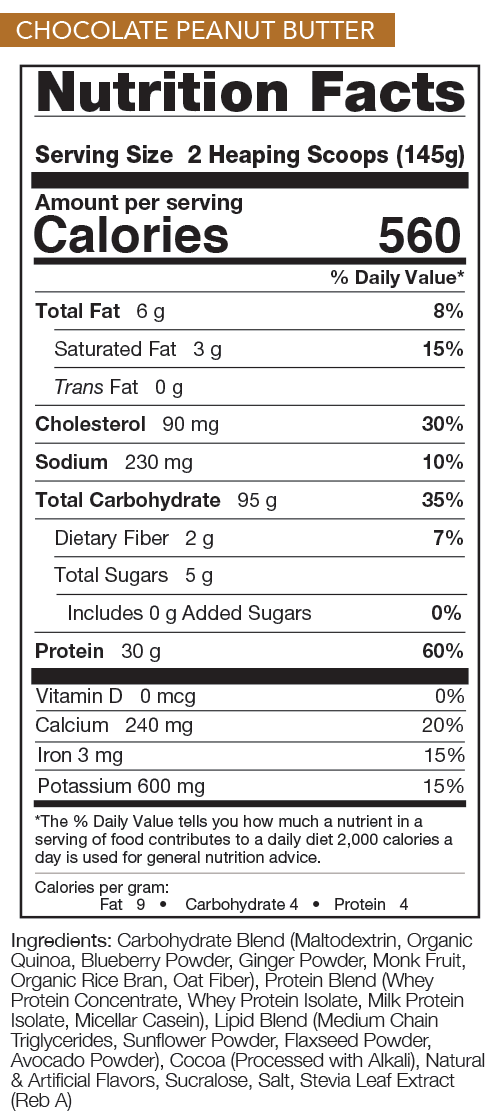 14 Reviews
Clean Gainer

Posted by Corey on Jul 27th 2018

It does what it should and tastes great. The price isn't bad. This is my go-to protein for gaining size. Highly recommended.

Good choice

Posted by SK on May 28th 2018

I love everything about the CleanGainer. Definitely better because of its shakeability. It's easy to take in and it taste great. It doesn't hurt my body, give me gas, or digestive system out of whack. My body can only take certain products, glad Cleangainer is one of it. Strongly recommend it for those that wanna gain some lbs or want more protein intake.

Jacob

Posted by Jacob on May 18th 2018

Jacob

Ray Daoedsjah

Posted by Ray Daoedsjah on May 17th 2018

Great product, low sugar with an exceptional taste. Mixes very easy. The body absorbs it very well.

Clean gainer protein review

Posted by Patrick on May 1st 2018

This protein has an amazing taste and for me is second to none..

Clean Ganiner

Posted by Dalton Sims on Apr 16th 2018

I highly recommend this product for a couple reason. First, this product taste amazing and blends up nicely, but that should be the only reason to get this product. My second reason, is this product put on about 7 pounds of good clean muscle for me. I can definitely notice improvements. I have already went through a 10 pound bag and on my second bag. My max bench was 205 before starting this protein and now I'm up too 245 for 3 reps. I have been able to put on this mucsle and weight while keeping my 6 pack. Overall, if you are a person looking for good clean gains I think this is the route you should take, but also have to eat right and stay with the right diet. I hope this is helpful for whoever is think about purchasing this product

Amazing!

Posted by Austin on Apr 11th 2018

This weight gainer was more expensive than the ones i normally buy, but honestly I was shocked at how good the chocolate fudge flavor was, not to mention it was extremely easy to drink even mixed with whole milk, I have had no issue drinking it nightly before bed. Will purchase more for the rest of my bulk

Clean Gainer

Posted by Benny Karnes on Mar 15th 2018

So clean and tastes amazing

Clean Gainer

Posted by Kyle Haarklau on Mar 7th 2018

My second time trying Rivalus products as well as the Clean Gainer. The ingredients are what attracted me especially given the price and compared to ingredients in other gainers. It's not just full of your standard cheap carbs and junk.

I got the chocolate flavor, toss that in with some milk and you can't go wrong. I only do one scoop per serving to help prolong the bag and to add some additional calories to my drinks and diet.

I'm highly lactose intolerant and this one has not cause any issues as far as digesting goes. After having it I still have room to eat more, which for putting on mass is great. It mixes well and works day and night. Definitely will be purchasing again.