POWDER BURN 2.0™
INTENSE PRE-WORKOUT ENERGY
AT A GLANCE (1)
3.75 g citrulline, arginine & agmatine compounds.
1.6 g beta alanine (CarnoSyn®).
200 mg anhydrous caffeine.
Betaine, tyrosine & taurine.
No proprietary blends.
No banned substances - safe for sport.
USAGE
Before workouts.
Insights
Some days you're ready to take on the world, others you need extra inspiration to push through the paces. That's where pre-workouts come in. These power-packed powder kegs contain caffeine, amino acids, and other ingredients aimed at enhancing performance through a variety of different means such as increased alertness, sustained muscle endurance, and improved hydration status. *
With over 7 grams of active ingredients in a single scoop, POWDER BURN 2.0™ is the spark to ignite your most explosive workouts. Unlike other popular pre-workouts, POWDER BURN 2.0's formula is transparent so you can see exactly what you're getting: 2.5 g of arginine compounds; 1.6 g of beta alanine; 1 g citrulline malate; 500 mg (each) of betaine, tyrosine, taurine, and agmatine sulfate; 200 mg of anhydrous caffeine; and ZERO BANNED SUBSTANCES! *
*These statements have not been evaluated by the Food and Drug Administration. This product is not intended to prevent, treat, cure or prevent any disease.
(1) Per serving. Information may vary by flavor. Refer to nutritional, ingredient, and allergen information for complete details.
DIRECTIONS
Add 1 scoop of POWDER BURN 2.0™ to a large glass or shaker cup filled with 10 ounces of cold water. Stir or shake for a few seconds until powder is fully mixed. Drink. Tip: For maximum intensity, consume the entire serving quickly. For more gradual energy drink ½ serving about 30 minutes before training and sip on the balance throughout your workout.
BEST TIME TO USE
Pre-workout.
STACKS WELL WITH
STEAM BCAA™, CRE-ELITE5™, POST-RX™, COMPLX5™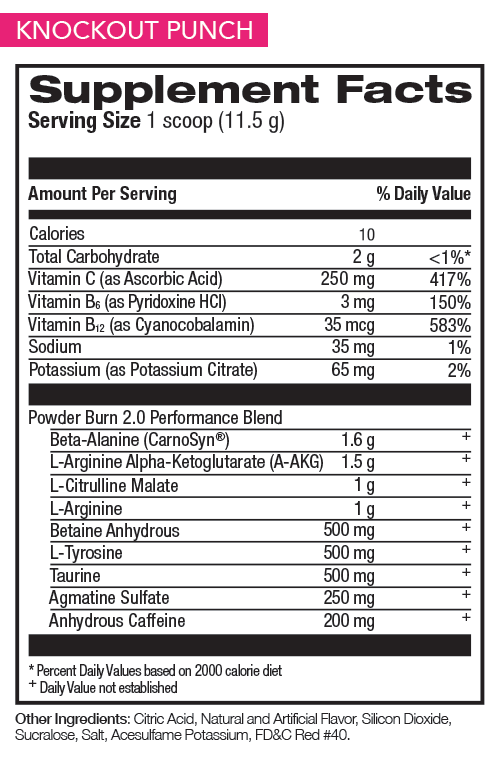 18 Reviews
Great product

Posted by Jason Armstrong on Feb 25th 2021

Good clean long lasting energy to give that extra push through your workouts. Highly recommend!

Burn preworkout

Posted by Christie on Dec 15th 2020

Great stuff and great taste

Energy and burn

Posted by Paddy on Aug 18th 2020

It gave me good energy to move and good taste

Powder Burn 2.0 Fruit Punch.

Posted by Earl Garris on Jul 29th 2020

This is my third order of Powder Burn 2.0 I like the clean fruit taste and the uplifting spirit and energy before my workouts.


That is some good energy!!

Posted by Jasmine Fleming on Jun 4th 2020

I've tried many preworkouts, but for years I have stuck with and have been using this one! Powder Burn gives you that endurance and extra push you need to give it all you have in your workouts, while not making your energy level crash shortly after. I also don't sweat that easily and this warms up my body just right to be able to release some great sweat!

Burn tastes great. I lIke the flavor and the boost it gives me to prep me for my workouts

Posted by Shelly Weigt on May 13th 2020

Great product at a fair price.
Ordering was easy and my shipment arrived quickly.
Thank you

Powder Burn 2.0

Posted by Earl on Mar 4th 2020

I have reordered powder burn 2.0 several times and have been very pleased with the pre-workout boost and energy during my work-out. I strongly suggest that you use powder burn 2.0 and you will certainly be satisfied with the results.

Great Pre workout

Posted by Nathan Burns on Mar 2nd 2020

Fully disclosed ingredient list so you
know exactly what your getting

Great pre-workout

Posted by M Sanford on Dec 11th 2019

Love all of there pre-workout. This is the 3rd one I've tried. All test amazing and give what you need to get through your workout.