POWDER BURN 2.0™
INTENSE PRE-WORKOUT ENERGY
AT A GLANCE (1)
3.75 g citrulline, arginine & agmatine compounds.
1.6 g beta alanine (CarnoSyn®).
200 mg anhydrous caffeine.
Betaine, tyrosine & taurine.
No proprietary blends.
No banned substances - safe for sport.
USAGE
Before workouts.
Insights
Some days you're ready to take on the world, others you need extra inspiration to push through the paces. That's where pre-workouts come in. These power-packed powder kegs contain caffeine, amino acids, and other ingredients aimed at enhancing performance through a variety of different means such as increased alertness, sustained muscle endurance, and improved hydration status. *
With over 7 grams of active ingredients in a single scoop, POWDER BURN 2.0™ is the spark to ignite your most explosive workouts. Unlike other popular pre-workouts, POWDER BURN 2.0's formula is transparent so you can see exactly what you're getting: 2.5 g of arginine compounds; 1.6 g of beta alanine; 1 g citrulline malate; 500 mg (each) of betaine, tyrosine, taurine, and agmatine sulfate; 200 mg of anhydrous caffeine; and ZERO BANNED SUBSTANCES! *
*These statements have not been evaluated by the Food and Drug Administration. This product is not intended to prevent, treat, cure or prevent any disease.
(1) Per serving. Information may vary by flavor. Refer to nutritional, ingredient, and allergen information for complete details.
DIRECTIONS
Add 1 scoop of POWDER BURN 2.0™ to a large glass or shaker cup filled with 10 ounces of cold water. Stir or shake for a few seconds until powder is fully mixed. Drink. Tip: For maximum intensity, consume the entire serving quickly. For more gradual energy drink ½ serving about 30 minutes before training and sip on the balance throughout your workout.
BEST TIME TO USE
Pre-workout.
STACKS WELL WITH
STEAM BCAA™, CRE-ELITE5™, POST-RX™, COMPLX5™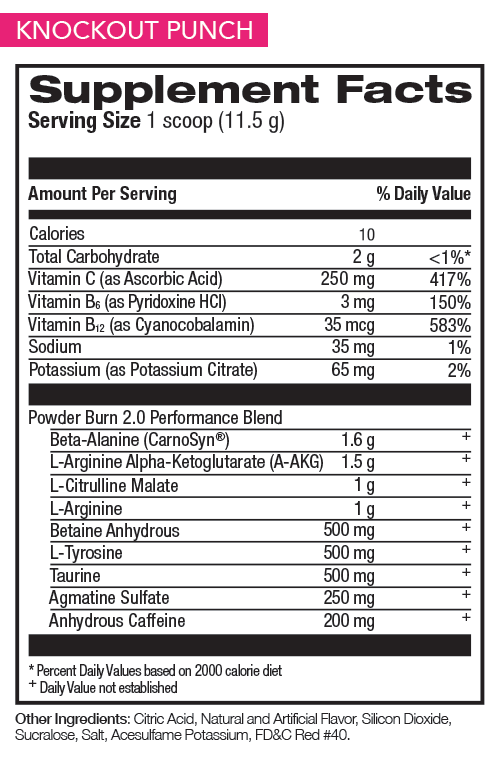 18 Reviews
Powder Burn 2.0

Posted by Corey Smith on Sep 23rd 2019

Amazing product. Just what you need to start an intense workout

Burn

Posted by Juan Carlos Landaverde on Jun 13th 2019

Tastes great. And works well

Solid preworkout without the spikes or lows

Posted by Adam on Feb 18th 2019

A solid preworkout that gives you good usable energy for your workout without any of those "underground" ingredients that give you a high and then drop-you-off-a-cliff low. It's a good performer that is a staple supplement in my house.

Powder Burn 2.0

Posted by Marissa Manprasert on Aug 30th 2018

Worth every cent! Before my workouts, I shake up this Powder Burn 2.0 in my Rivalus Shaker bottle, and it works wonders. I feel pumped throughout my entire lift!

Ginger Mack

Posted by Ginger Mack on Aug 28th 2018

Ginger Mack

Full disclosure

Posted by Haley on Aug 7th 2018

It does give me a pretty good energy for my workout, and it fully blends in after shaking it. The flavor is pretty tasty, but it can get a bit too sour if I do the full scoop or a little over a full scoop.

AWESOME

Posted by Jes on Jun 19th 2018

I can't workout without this stuff


Powder Burn 2.0 Preworkout

Posted by Kyle Haarklau on Mar 7th 2018

This is the first time trying this preworkout and so far, so good.

Benefits: I usually work out in the afternoon and usually caffeine has a high effect on me and disrupts my sleeping. For this I'll take it in the afternoon about 3pm, hit the gym at 4pm and I can feel it kicking it. Helps give me the extra push during my workout and afterwards no crash but I also don't find myself having trouble falling asleep at night.

Mixibility: great, just some water and a spoon and it mixes well. The recommend ounces (10) makes it a little thicker for a preworkout but still goes down fine.

Taste: I wish there were more flavors. I got the watermelon and it tastes good but not what I'd prefer.

I'd recommend this product for a person like me who's sensitive to caffeine, works out in the afternoon and still needs that extra boost to get them through their workout.

Digestion wise this is also easier on the stomach compared to other preworkout . A lot of other products don't sit well for me but I had no troubles with this one.

1 hr before

Posted by Tay on Feb 22nd 2018

Works great when you take an hour before a workout. I notice a bit of difference in energy levels when I take only 30 minutes before. Great product overall. Will continue to buy.